Airports serviced by Hawaii Jeeps rental services.
Our expanded rental network includes the five major islands with multiple airport locations. Hotel pick-up is also available at Waikiki on the Island of Oahu. The island of Maui now has three Jeep rental locations while the Big Island has lots in Kona and Hilo. We do not currently serve Lanai.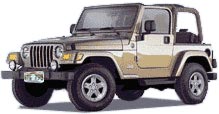 Big Island
Hilo Airport, Hawaii (ITO)
Kona Airport, Hawaii (KOA)
Kauai
Maui
Kahului Airport (OGG)
Lahaina-Kaanapali (JHM)
Kihei Service Center [Dollar]
Oahu
Honolulu Airport (HNL)
Waikiki Service Center (Hotel Pick-up)
Molokai

Docked Cruise Ships all receive free shuttle service to and from the six major harbors in the Hawaiian Islands.