JEEP RENTALS - HAWAIIAN ISLANDS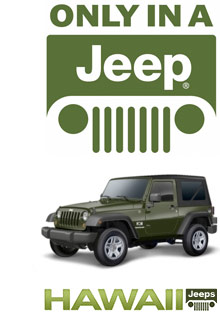 Reserve a Jeep Wrangler, 4 door Jeep Wrangler Unlimited or Jeep Grand Cherokee for your visit to the Islands. We search for the "Best Rate" we can find and lock-in that rate for you. If you simply want to check rates you can use our Quick Search. We tell people to go ahead and book a Jeep and cancel if you by some chance find a better rate. No obligation or cancelation charges. Re-book later if the price drops.
After sending the form below you will receive an instant confirmation on-screen and have the chance to book a Jeep for another island. Remember, you may cancel or change at any time. No penalties or charges will be assessed.
* Please enter your required info to avoid errors.

©2017 HawaiiJeeps.com — All Rights Reserved